TESTIMONIALS FROM PARENTS
I am so happy that we ended up having my son evaluated here after first receiving a referral for another place. We have been thrilled with our experience and look forward to coming every week! I feel like the SpOT Clinic has become an extension of our family and they care about my son like he was their own. He sees Ms. Karli for OT, Ms. Courtney for Speech, and will be seeing Ms. Peyton for PT starting next week, as well. Everyone we have interacted with has been amazing and they find a great balance between keeping me informed without talking down to me about my son's care and I feel very comfortable that his future is in great hands!
Brianne F.
I can't say enough good things about The Spot Clinic. After visiting several other speech and language clinics in Huntsville, we found a home here. Our daughter thrived under the care of Miss. Emily, and when our family was assigned to an overseas move Tracy and the team found a way to continue to work with us via telehealth. It was a difficult and complicated process, but they never turned us away and for that, I am so grateful. They found a way to continue to offer our daughter services through Covid and made sure she continued to receive the therapy she needed. I would recommend this practice 100%!
Jaime C.
We have an autistic 5 year old and an adhd diagnosed 3 year old and the spot has truly worked wonders. I trust them with my kids and the staff really work with the children to find the issues that they need help with while praising the good the kids actually do. Thank you The Spot Clinic! We would not have made it this far without yall!
Misty A.
My family has been coming to The Spot Clinic since 2020 and we have loved every minute. The staff are friendly and so helpful. The pediatric therapists are incredible and have done absolute wonders for my children.
Andrea G.
This group is super caring! I absolutely love The SpOT Clinic! I moved out of the area but continued coming here because of their kindness and relationships they have established with my kids. I would 10/10 recommend them.
Promise C.
I highly recommend this place. They are professional, trust worthy, honest, comfortable to be around. I love this team of people. I started out very nervous and they showed me southern hospitality and ensured me things will get better with time. My child has showed improvement within 90 days. They accept Medicaid. They work together to care for the needs of the clients and their families. This is definitely "THE SPOT" to be at!!!!! I love everybody in there. #TeamLayah
Jas W.
Having the therapist at The Spot Clinic working with my grandbabies has been a tremendous help. There are days when their moma feels overwhelmed, and at a loss. On more than one occasion she has been reassured that she isn't alone. They not only work with the kids , but they also provide the parent with the tools they need to continue at home with what they have start  in therapy. They staff go above and beyond to make the kiddos feel comfortable and confident in their ability to succeed in life. We are blessed to have them as  a part of our family.  Because that's what they are!
#seetheablenotthelabel
Alisha
If your kiddos are needing that little extra jump or push in the right direction to meet their goals, wether it be Speech, Occupational or Physical therapy,  this is the SPOT to be. The team here is amazing, friendly and caring,  from Kelly and Cori in the front to Mr. Will, Liz, Sarah, Destiny, Mr. Dillan , Miss Melba and everyone in between. They are the best! I couldn't ask for a better team to be working with my kiddos. They go above and beyond.
Sharlot G.
We've been going here for about 2yrs now for both Speech therapy and Occupational therapy and have had the best experience! They've been so wonderful at working with my son and keeping him both encouraged and motivated and I also really appreciate them working with me on appointment scheduling!
Allison
They have been an amazing resource to help my kids develop and grow. Im so greatful for everyone that has helped my kids and help me understand how i can best help them as well. Thank you to all of people that have so much for my family.
Jacob G.
We LOVE The SpOT Clinic! Everyone is incredibly kind and caring, from the professionals that assist my son, to the amazing ladies making everything happen behind the scenes. My family is grateful for all the love and help we have received. I couldn't recommend them enough to anyone who has a child who needs extra help. Thank you for all that you do!
Christina G.
Everyone here is so awesome at what they do. The care they show for every child they have is amazing to see. I enjoy that they always take a moment before the visit to relay any concerns and after the visit to relay what they worked on and what you as a parent can do to support your child. Coming here you really feel like you are apart of The SpOT Clinic family. They know each child by name and speak to them in such a respectful manner. My 4 year loves coming to "school" and really enjoys the entire staff as do I.
La Toya F.
We adore the entire staff at The SpOT Clinic in Madison! Only one of our boys receive services, but we all feel like part of the family! From the front staff to all of the PT, OT, and Speech providers. They are amazing! If your little one is in need of any of the services offered, the Madison clinic is the place to go! Also the facility and gym is top notch!
Crystal P.
My son has been going to speech, OT, and PT for about 5 months now and he has thrived. The staff and therapists here are wonderful and treat each child with such patience and respect. It's truly like a second family. Very impressed with this clinic and so happy to have my child attending therapy here.
Christian B.
The therapist at the Madison clinic are amazing! We have an OT & speech therapist that we are particularly fond of BUT they are all wonderful. Empathetic, kind, compassionate & patient are all words that immediately come to mind. The staff at this clinic truly care about children and helping them develop skills/areas they are struggling in.
Any time my child has had a rough day before a session, I'll fill the therapist in on the situation & they willing provide extra TLC to help my child work through it during his session. They understand children are people too and get overstimulated, tired, melt down, etc.
Cortnee W.
My child wasn't speaking at age 2, and we found the SpOT clinic shortly after.  She has been going for roughly a year now and has made an immense amount of progress.  She absolutely loves the staff.  They send us home with work, activities, and ideas so we can continue to make progress at home.  I have learned so much from this team and am so thankful that my daughter has had the opportunity to go here.  Thank you so much for truly caring about our children.
Brittney A
I cannot rave enough about The SpOT clinic in Madison. My son started going there in November of 2022 when we first moved here from Kansas city, MO. He attends Speech, OT, and PT. Since November he has grown leaps and bounds and he continues to hit milestones and goals every session. I am so pleased and happy with his progress and I can't begin to describe how loving and caring each team member of the Madison clinic is and how they treat you like family. From the moment we came here I felt peace knowing that my child is being treated like their own, he is surrounded by patient therapists and staff and he continues to thrive in a safe environment. I know that he is in the best hands possible. If your child is struggling and needs some extra assistance and guidance, the SpOT clinic in Madison is the place to go.
Sarah B
The SpOT Clinic in Madison has been amazing! His speech has improved and he's able to articulate sounds he couldn't before. Sophie (and all of the therapists there) is amazing, and really has a talent with kids.
Christine H
I've seen amazing progress with my son's speech with the help from Ms. Sophie and Ms. Emily. The front desk is always so friendly and kind. I'm just so grateful for the help, patience, time and dedication the staff here always gives me and my little guy. Highly recommend this place.
Matthew N
We love our therapists at the SpOT clinic – they are all amazing! We do Speech, OT, & PT. My daughter has progressed so much. Melisha, the receptionist, is great about setting the appts at our preferred time and booking everything together.
Rebecca K.
We have been with The SpOT Clinic since they first opened and transferred to the Madison clinic when it opened. I cant say enough good things about them. We have done PT, Speech and OT, have graduated all but OT and have seen so much progress! We love them all, from the therapists to the office staff to the owner herself.
Edie L.
My son has seen soo much improvement in just a the few months he has been going to the Gulf Shores location! My son loves all his OTs and Speech Therapists so much! He is always so excited he tries to go back to the rooms before they even come out to get him. Everyone there has been so amazing including Ms Andrea!
Courtney V.
We LOVE the SpOT Clinic! My son did speech therapy here for about 5 months.  Sara was his therapist and she was so kind and helpful by not only working with him, but also teaching me methods to use at home! His speech has improved so much since coming to The SpOT Clinic! We are forever grateful for this place and these wonderful people! ❤️
Andrea G.
I have Autistic twin grandsons that are non-verbal and they started going to The Spit clinic in Gulf Shores, Al. a couple of months ago and I am amazed at the positive change I see in them. I can not wait to see what the remainder of the year holds for my sweet boys. I highly recommend The Spot Clinic in Gulf Shores for all of Baldwin county parents searching for help for their children.
Gina G
We have been coming to the SpOT Clinic here in Gulf Shores ever since they opened. These girls have helped my kids so much and not only are they helping my children but also helping me. They love and treat my babies like their own.
Destiney B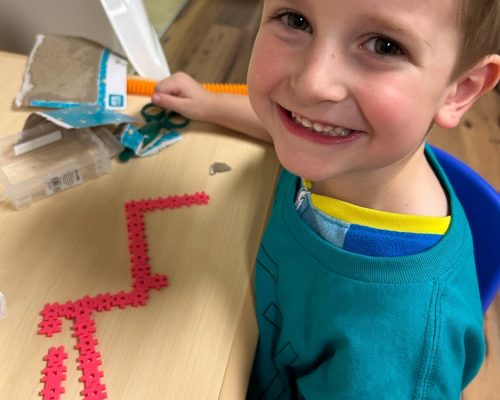 CONTACT US FOR MORE INFORMATION
Do you have questions or would you like to set up an appointment? Reach out to us using the contact form below and one of our staff will be happy to help!